Over $40 Million Recovered In Verdicts & Settlements
Motorcycle Accidents
$3.6 Million Construction Accident

$3.2 Million Pedestrian Accident

$2.8 Million Car Accident

$1.8 Million Construction Accident

$1.6 Million Pedestrian Accident

$1.5 Million Pedestrian Accident

$1.4 Million Slip, Trip and Fall Accident

$1.3 Million Pedestrian Accident

$1.3 Million NYCTA Bus Accident
"Ken Pryor went above & beyond!"

- Wendy
New York City Motorcycle Accident Lawyer
The Pryor Law Firm is Committed to Clients throughout Brooklyn, Manhattan & Nassau County
If you were injured in a motorcycle accident anywhere in the five boroughs or on Long Island, The Pryor Law Firm is ready to work with you. With law offices in Brooklyn, Manhattan and Nassau County, our motorcycle accident lawyers in New York City are convenient to clients throughout the region. And if you can't come to see us, we'll visit you at home, in the hospital or wherever and whenever it is convenient.
---
Contact our New York City motorcycle accident lawyers today at (855) 719-0590 for a free consultation. There is no legal fee charged unless we win your motorcycle accident case!
---
Unfortunately, most motorcycle accidents result in broken bones and other significant injuries. In those rare cases, however, where there are no broken bones and the injuries sustained are "soft tissue" type injuries, motorcycle riders have a major advantage over car accident victims in personal injury claims. Unlike car accident victims, motorcyclists do not have to prove that they suffered a "serious physical injury" before they can recover money damages for their pain and suffering ("non-economic loss") associated with their injuries.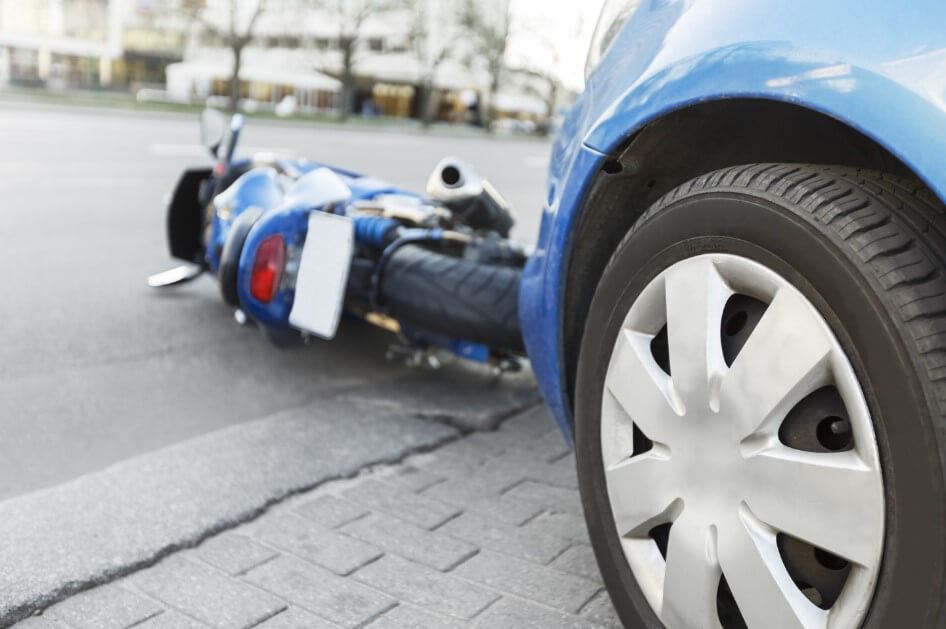 As such, certain types of injuries have a much greater settlement value in a motorcycle case as opposed to a car accident case and you need an experienced motorcycle accident attorney in New York City who knows the difference.
Motorcycle Accident Fault Statistics
According to the Insurance Information Institute, motorcyclists are at-fault for most accidents involving a motor vehicle with only 25% of accidents being single-vehicle accidents. Problems that often come up in motorcycle accident litigation is the issue of comparative fault. Drivers who hit motorcyclists often argue that the motorcycle rider caused the accident, so that driver shouldn't have to pay for the injuries and damages suffered by the motorcyclist.
Unfortunately, some people have unfair and biased opinions about motorcycles and those who ride them and they may be quick to assume that the accident was the fault of the motorcyclist. You have the same rights on the roadways as everyone else and The Pryor Law Firm will help make sure that your rights are protected, that you are treated fairly by the insurance company and that any jurors selected for your trial are fair and open minded about motorcyclists in New York City.
Who is At-Fault in a Motorcycle Accident?
Under New York law, an injured person who is partly or even mostly at fault still has the right to recover damages from someone else whose negligence played a role in causing the accident, but the amount of the recovery will be reduced accordingly. For example, if your losses totaled $100,000 but your share of the fault was found to be 20 percent, you would still be entitled to collect $80,000 for your injuries. As such, even if you were partly at fault in causing your accident, you still have a case if the other driver was also at fault.
Dependable Client Service for Severe Personal Injury Claims
Because motorcyclists are exposed to the risk of direct contact with a colliding vehicle, high-impact contact with the road surface and such additional hazards as lacerations, friction burns, and amputation, the personal injuries suffered in motorcycle accidents tend to be severe.
No matter how badly you were hurt, however, an insurance company will need to be convinced of your ability to prove your damages at trial before it will make you a fair settlement offer.
With almost 25 years of trial experience, Manhattan motorcycle accident attorney, Kenneth A. Pryor knows how to investigate, prepare and present personal injury claims of all kinds. If your case goes to trial, this personal injury experience will help convince the jury of your right to a fair amount of payment. Better yet, once the insurance company understands that your lawyer knows how to handle the evidence in disputed injury claims, your chances of a fair settlement improve significantly.
---
Contact us at (855) 719-0590 today to schedule your free consultation. Our NYC motorcycle accident lawyers are committed to helping you understand your unique situation and make informed decisions about your future.
---