Over $40 Million Recovered In Verdicts & Settlements
Medical Malpractice
$3.6 Million Construction Accident

$3.2 Million Pedestrian Accident

$2.8 Million Car Accident

$1.8 Million Construction Accident

$1.6 Million Pedestrian Accident

$1.5 Million Pedestrian Accident

$1.4 Million Slip, Trip and Fall Accident

$1.3 Million Pedestrian Accident

$1.3 Million NYCTA Bus Accident
"Ken Pryor went above & beyond!"

- Wendy
Medical Malpractice Lawyers in New York City
The Pryor Law Firm Holds Medical Professionals Accountable
At The Pryor Law Firm, we advise people who need to know whether a medical condition led to serious injury or death through unavoidable causes or through negligent errors committed by a doctor or nurse. If we find that you have a case, our New York City medical malpractice attorneys can help you develop and prove your claims for damages.
Suffering from a negligent provider or hospital? Contact our NYC medical malpractice lawyers for a free consultation today!
How Can The Pryor Law Firm Help You?
Lead attorney Kenneth A. Pryor has almost 25 years of trial experience, and his practice has focused on personal injury and wrongful death litigation since 1997. His results for victims of medical negligence include a wide variety of cases, such as a $250,000 award for burns suffered by an infant surgical patient at a Bronx Hospital and a $1 million jury verdict for a Bronx woman whose facial scars were worsened by the plastic surgeon attempting to improve them.
The Pryor Law Firm provides free consultations in all medical malpractice cases. Clients also benefit from our NYC medical malpractice lawyers' ability to advance the expenses of evaluating and developing negligence claims against medical professionals. Because malpractice claims usually need the support of doctors qualified to express opinions about the performance of the potential defendant, it is not unusual to have to spend thousands of dollars in expert witness fees. Our medical malpractice attorneys in New York City only recover these costs after we recover money for you through a settlement of your claim or a verdict at trial.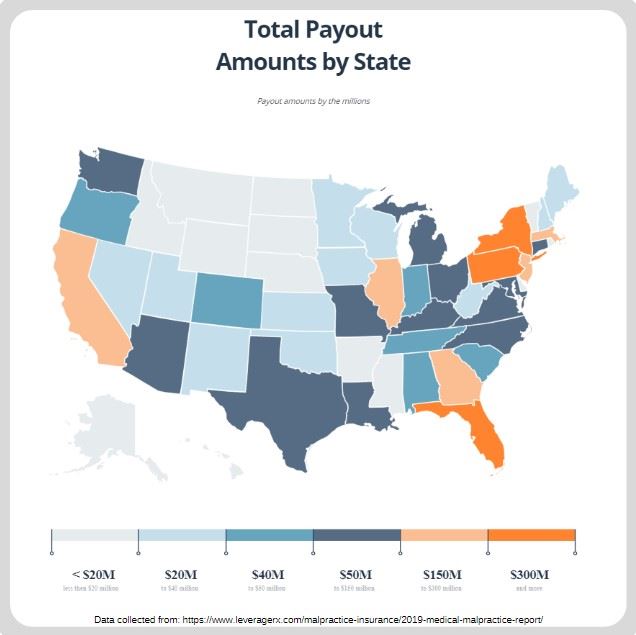 What are Grounds for a Medical Malpractice Suit?
According to The National Center for Biotechnology, every year, more than 250,000 patients die from medical errors, and many more survive with serious injuries as a result of malpractice. This places medical malpractice as the 3rd highest cause of deaths in the United States. With these types of statistics, our medical malpractice attorneys in New York City have a passion to help you and your loved ones seek justice for your pain and loss. However, we also understand that every case is unique and each situation has it's own set of nuances, and there must be an airtight case formed in order to prove negligence.
In order to build a strong malpractice claim, you must be able to prove the following:
The medical provider did not provide you with a successful standard of care.
You were harmed as a direct result of that deviation from protection.
The harm or injury resulted in compensable loss in forms such as expenses, bills, lost wages, and pain and suffering.
If you have questions about whether or not you have grounds to file a medical malpractice suit based on your unique situation, contact the Pryor Law Firm immediately to discuss your case with our New York City Medical Malpractice attorneys!
What are Examples of Medical Malpractice?
Not every bad outcome for a patient will support a medical malpractice lawsuit and not every mistake by a doctor or nurse will lead to a settlement or damages award. However, there are many cases where medical malpractice lawsuits are clearly justified and the patient deserves to be compensated for damages caused by medical errors. In order to win a claim of medical malpractice, our medical malpractice attorneys in New York City needs to prove that the defendant's mistakes were of the kind that similar medical professionals would not commit. We also need to show the causal relationship between the medical error and the patient's worsened condition.
Examples of the kinds of medical malpractice cases we handle include:
Misdiagnosis or delayed diagnosis of illnesses like cancer, heart disease or stroke
Negligence in emergency medicine
Errors in prescribing or administering medications
Claims against hospitals for negligence in postoperative care or allowing infections to spread
Surgical errors, such as operating on the wrong organ or leaving surgical tools in body cavities
Anesthesia errors
Some cases of medical malpractice involve multiple defendants, such as family doctors, radiologists, specialists in fields like oncology or neurology, surgeons, and specialized nurse practitioners. Each might blame the others for the patient's serious injury or death, and all might confuse the causation issues.
Helping You File Your Claim
Because The Pryor Law Firm works with outstanding medical experts from a wide range of specialties including car accidents, construction accidents, and MTA accidents we are able to keep the focus on the issues our clients need to have explored and resolved. We serve clients throughout Brooklyn, Manhattan, and Nassau County.
To learn more about the ways you can benefit from our experience with complex medical malpractice litigation, contact our New York City medical malpractice attorneys at (855) 719-0590.